Cappadocia, the ancient land of the horses, is bang in the middle of Turkey and a region famed for its rocks. It is littered with dramatic stone conical formations that protrude up out of the ground, and these are strewn across empty desert plains, deep stone valleys, and nestled before snow-topped mountains.
These conical formations are locally known as fairy chimneys, or castles, and came about after three volcanoes in the region erupted millions of years ago and spread volcanic material far and wide, which then set and has been eroded into bizarre shapes over the years.
Above: fairy chimneys
Below: view of Goreme from my window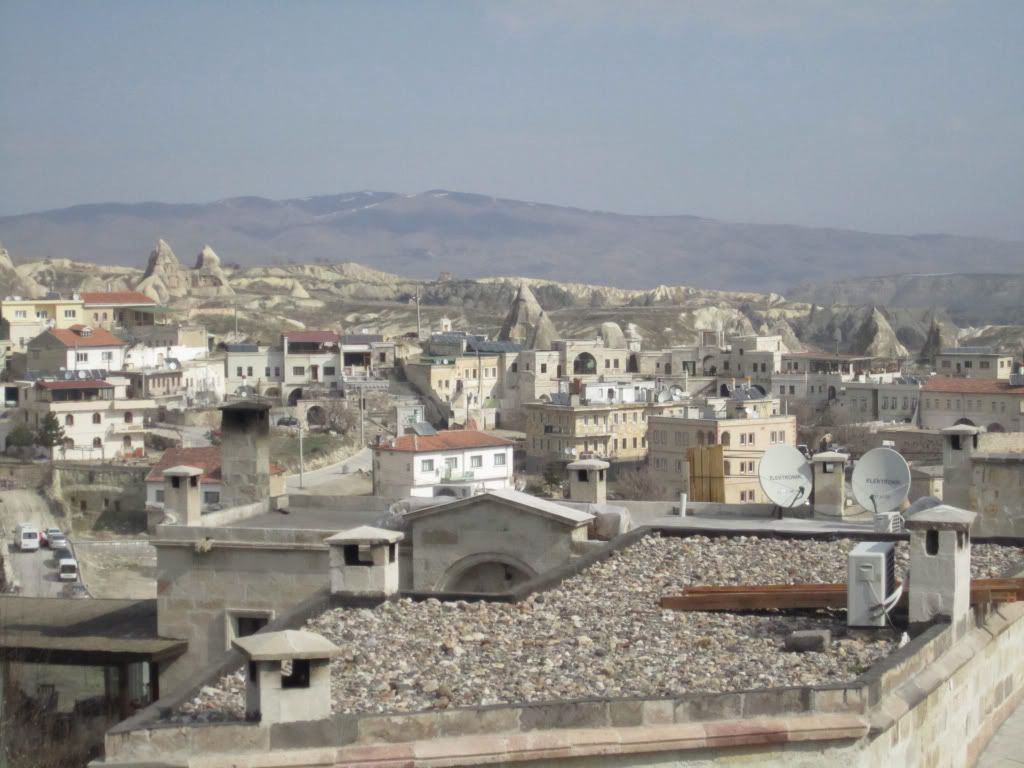 This place has been compared by many to a moonscape, or like landing on another planet. And this is not an overstatement. This is a very peculiar place to wake up to each morning. The strange patterns of the land and all of the stories it lays bare make it eerie and haunting - it feels ancient and important.
The volcanic stone in Cappadocia is easy to cut into and shape, and given these ready made stone structures, the first known people in the region (Hittites) carved their buildings out of fairy chimneys. The Christians, Ottomans and many other civilisations who came through also carved out stone structures or used preexisting ones. As a result you can see ruined churches and homes, monasteries and so on dating from BC and into the 1600s as you walk the hiking paths of the region. Many still have frescos depicting bible stories, altars, empty tombs, niches for lanterns and animal feed, and other features illustrating what the were used for.
The Hittite civilisation and those that came after also carved cave houses and churches into the side of valleys and underground. In fact there are about 200 underground cities in the region. Perhaps originally built to keep food cool, or make wine, these later became hiding places for the Christians as Persian raiders rode across Turkey to wipe them out.
Below: Uchisar castle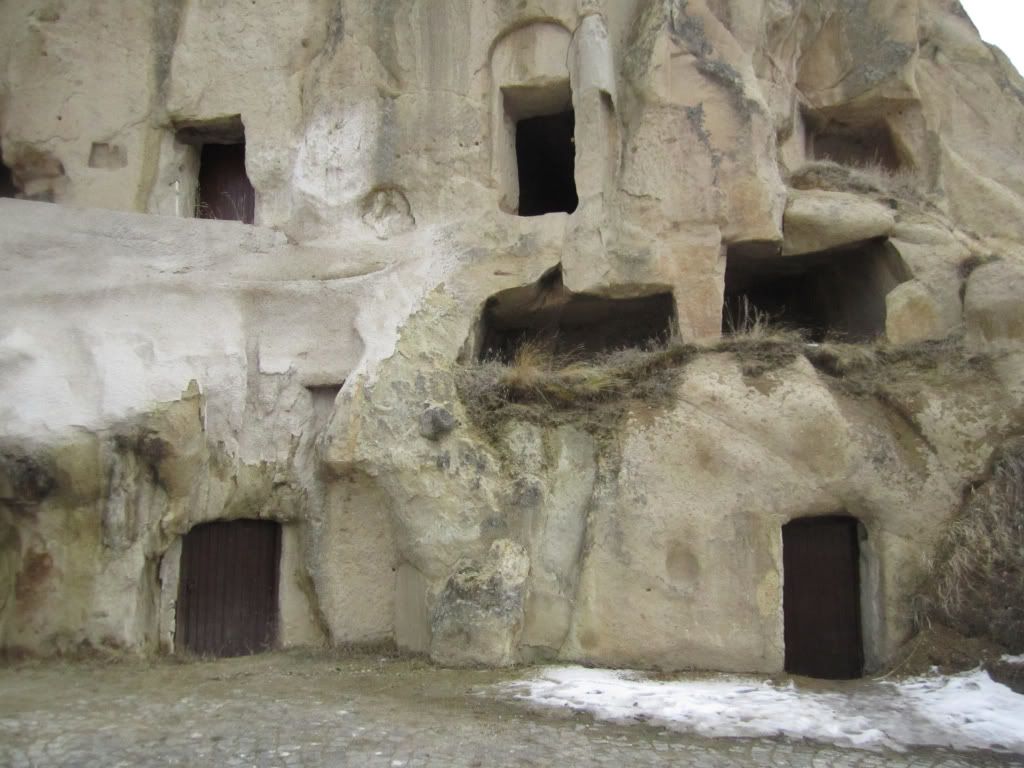 Above: cave dwellings
Below: church in Goreme Open Air Museum (a rock-cut monastery)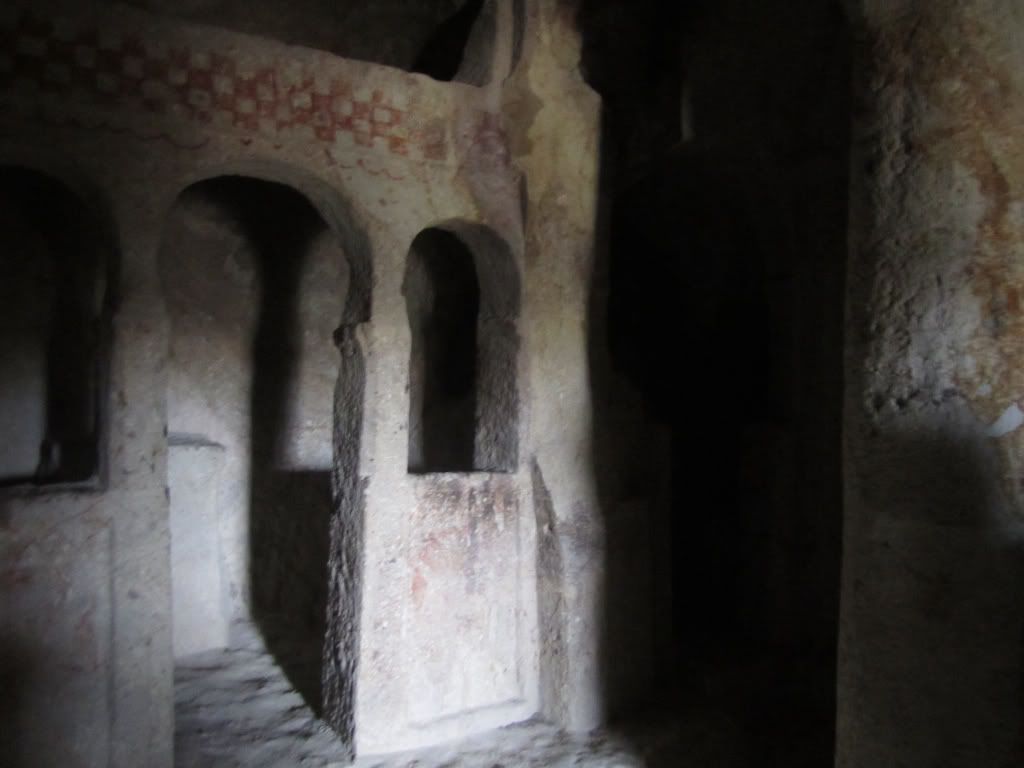 Above: room in underground city of Kaymakli
Below: outside a church in the Rose Valley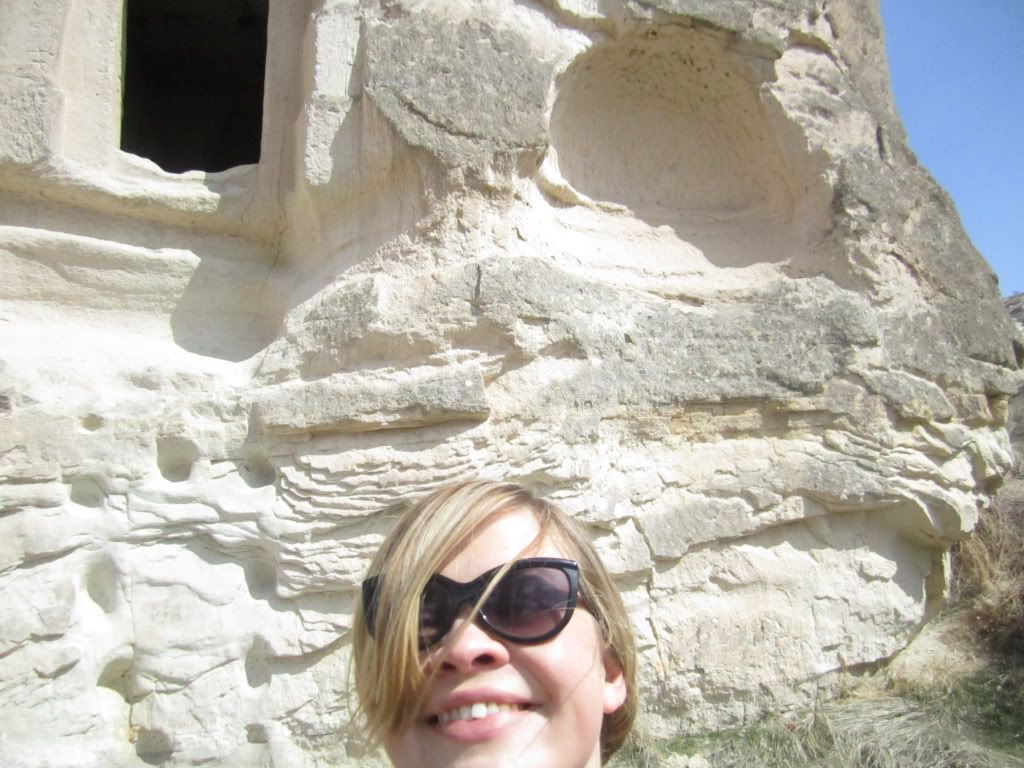 Below: Uchisar
There are places in the subterranean cities where you can see holes where the Christians would pour hot oil over raiders who intruded underground, and where there are large circular stone doors that would be pulled across to cut off an entrance. It is interesting to be hearing these stories of intense Christian religiosity in the region, while the call to prayer from a mosque plays in the background at regular intervals each day. That juxtaposition and tension of Christian verses Muslim life is so prominent in Turkey - there are many buildings that were clearly churches and now are mosques, just add a minaret!
Below: pomegranate juice after a long walk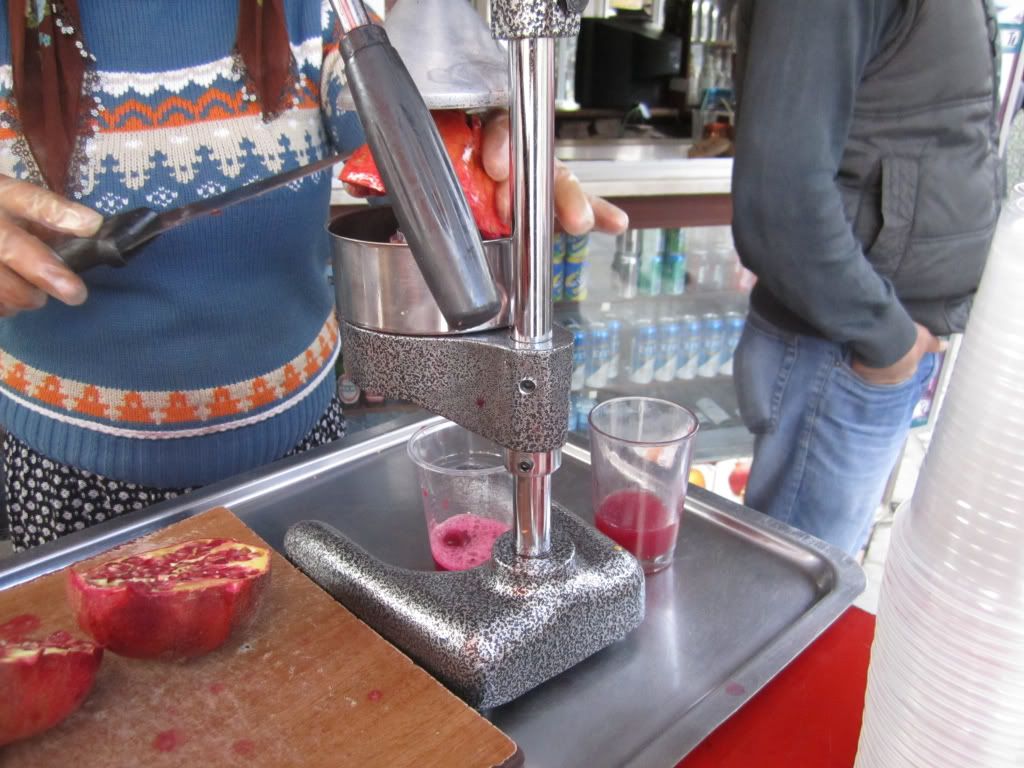 These places and hikes are accessible with a tour guide, easily found in one of the tourist villages, like Goreme or Urgup. And since this place is no secret and home to multiple world heritage sites, yes the towns have been completely overtaken by tourism, but they still have remnants of the everyday village life beneath, and have certainly not been ruined.
The other exciting thing is that the tours include a four-course meal (love the priorities), and hotels serve breakfast with homemade honeycomb, home dried fruit, cheeses, eggs, four kinds of olives and lots of apple tea. And thanks to the rich volcanic soil the food and wine is delicious here. Apricots, berries and grapes grow all over the place. Sigh.